Preveza
Resort type:

Beach resort

Landscape:

Town, Seacoast, Hills, Flora of the Mediterranean

What to do:

Diving & Snorkelling, Wellness Tourism, Historical & Architectural Monuments, Yachting & Sailing, Hiking, Fishing & Spearfishing, Surfing, Windsurfing & Kitesurfing, Festivals & Carnivals, Shopping, SPA, Nightlife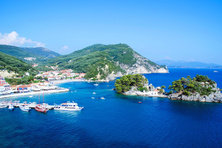 Preveza is a Greek city and the administrative centre of Preveza nome. It is situated in the Ambracian Gulf of the Ionian Sea in the northwest of Hellenic Republic. The city belongs to the Region of Epirus. The total area of the municipality is about 380 square kilometres. The city is 50 kilometres away from Ambracia and 362 kilometres away from Athens.
The lovers of beach holidays can sunbathe on the white sandy coast of the Ionian Sea. The active tourists can go fishing, diving and snorkelling in the coral reefs. The extreme tourists prefer to gather on Loutsa Beach, Monolithi Beach, and Lichnos Beach, situated in the west of the city. They can try their hand at kiting, windsurfing, surfing, yachting and sailing.
The suburbs of Preveza are very popular with the ecological tourists. They can take a walk along the shores of the Pogonitsa Lake, explore the vegetation in Paraliako Forest and watch the animals in Amvrakikos Wetlands National Park. The ecological system of Xerovouni Mountain is also of a great interest.
The city cannot boast of many celebrations and festivals, but the annual Sardine Festival attracts many tourists to the city.
You will enjoy typical Greek meals in such restaurants as To Tempelxaneio, Treli Garida and Taverna O Kaixis.
Minos Hotel and Preveza Garden Village have wellness centres on site offering massage or spa treatments.
If it is the excursion tourism you are after, then go on a tour around the region. You will see such architectural and historical monuments as the Ancient City of Kassiopi in Kamarina, Ali Pasha castle in Anthousa, Venetian Castle, Nekromanteion Oracle of Ephyra in Parga. Anyone can go on a boat trip along the Acheron River or the "river of woe".
You will have a good shopping experience at Polis Market mall.
The most popular nightclub is Club B52.