Prioksko-Terrasny Nature Reserve
Resort type:

Country resort

Landscape:

Swamp, Broadleaf Forest, Lakes, Plain, Riverside, Coniferous Forest, Hills

What to do:

Cycling, Downhill Skiing, Natural Parks & Reserves, Horse Riding, Wellness Tourism, Gliding & Paragliding, Hiking, Rafting & Kayaking, Fishing & Spearfishing, Snowboarding, SPA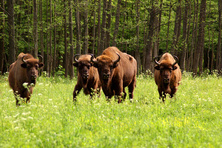 Prioksko-Terrasny Nature Reserve is a territory with the total area of about 50 square kilometres. It is included on the UNESCO list of biosphere reserves. The reserve is situated on the shore of the Oka River in Serpukhov District in Moscow Region in the east of the Russian Federation. The nearest towns are Zibrovo, Luzhki, Danki and Pushchino.
The reserve is the main destination for the ecological tourism. On its territory, there are hiking routes. The tourists can visit Bison Breeding Center, Wood Spirit's Hut and Integrated Background Monitoring Station. Anyone can study the exposition if the Museum of Nature. The tourists must be aware that access to Prioksko-Terrasny Nature Reserve Old Wood is strictly prohibited without a special permit. In a wellness centre Luzhki, the tourists can have a picnic, go fishing on the Oka river and enjoy the picturesque river landscapes.
The lovers of the wellness tourism will have a chance to improve their health in Drakino Park oxygen resort. There is a thermal area, fito bar and water entertaining facilities. You can have spa treatments and massage there as well.
The extreme tourists can go sledding, skiing, snowboarding in Malakhovo and Chulkovo. In summer, they can go trekking, paragliding, parachuting, paragliding, rafting, kayaking, horseback riding and biking.
If you want to go shopping, go to the city of Serpukhov. There are Labirint and Garmpniya malls.
In Serpukhov, you can also see such historical and architectural monuments as Vysotsky Monastery or Sologubov Estate.
Matryona and Baba Ulya restaurants serve traditional Russian dishes.
There is no nightlife in the reserve.