Puebla
Resort type:

City resort

Landscape:

Town, Mountains, Valley, Lakes, Riverside, Tropical Forest, Volcanoes

What to do:

Cycling, Culinary Tourism, Ancient Monuments of Civilization, Natural Parks & Reserves, Horse Riding, Historical & Architectural Monuments, Hiking, Safari, Festivals & Carnivals, Shopping, Nightlife, Religious Pilgrimage, Zoos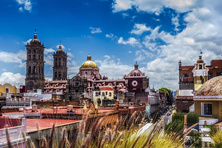 Puebla is a municipality and the capital of the State of Puebla situated in the central part of Mexico. The city is surrounded by the four volcanoes and occupies the territory with the area of 546 square kilometres in the Valley of Cuetlaxcoapan.
Puebla is an acknowledged UNESCO site because there are many unique historical and architectural monuments. That is why the city is a popular destination for the excursion tourism. The tourists will be able to see the artefacts of the pre-colonial period in Amparo Museum, see the ruins of Cantona and take a walk in Francisco Pelaez-Ethnobotanical Garden.
The pilgrim should definitely visit Santo Domingo Church, Chapel Del Rosario and Puebla Cathedral.
The local celebrations and festival are very popular with the lovers of the event tourism. The guests of the city, especially love to participate in the parade and the battle reconstruction on the occasion of the Mexican Victory Over French Forces at the Puebla Battle.
The ecological tourists will want to go on a trip to see the natural sights of the city. For example, Iztaccihuatl and Popocatepetl national park, a sleeping Cuexcomate Geyser, Africam Safari Park.
The extreme tourists can go horseback riding and biking. They can also try and conquer one of the volcanoes or go trekking.
Being a city resort, Puebla is a good place for shopping. On the local El Parian market, there is a great choice of pottery, souvenirs and clothes.
The foodies will enjoy traditional Mexican dishes many of which were originated here in Puebla.
At night, Mio Piano Bar, Rock Cafe and Mambocafe Puebla open their doors.