Phayao Province
Resort type:

Country resort

Landscape:

Mountains, Lakes, Riverside, Tropical Forest

What to do:

Mountaineering, Cycling, Culinary Tourism, Natural Parks & Reserves, Horse Riding, Wellness Tourism, Historical & Architectural Monuments, Hiking, Rafting & Kayaking, Fishing & Spearfishing, Thermal & Mineral Springs, Festivals & Carnivals, Shopping, Nightlife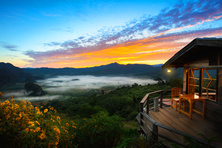 Phayao Province is a Thai province with the total area of about 6.300 square kilometres. It is situated in the north of the country. The Phi Pan Nam Mountain Range extends from the south to the north of the province. It borders Lampang province, Nan Province, Lamphun Province and Phetchabun Province. The administrative centre is the city of Phayao.
A unique nature of the northern Thailand attracts the lovers of the ecological tourism. In Doi Phu Nang National Park, the tourists will watch the birds and see the Namtok Than Sawan Waterfall. An excursion to Phu Lang Ka Forest Park is also very interesting. The Park occupies the territory of Pong District and Chiang Kham District.
The wellness tourists will surely want to go to Namtok Phu Sang thermal sources and feel their favourable effect.
The region holds many celebrations, fairs and festivals, ensuring the development of the event tourism. Among the most popular events are Sky Rocket Festival, Candled Procession Festival and Hilltribe Traditional Festival.
If it is city entertainments you are after, then you should stay in the capital. There you will find Long-Lean, She Vit She Va nightclubs and Payao City shopping centre. The foodies will try traditional Thai dishes in such restaurants as So Good Phayao, Aurora House and Bridge.
The lovers of the excursion tourism will get acquainted with such historical and architectural monuments or temples and Wat Nantaram Temple, Wat Tilok Aram, Wat Li. We also highly recommend visiting Ancient Town of Wiang Lo.
The extreme tourists will get the most vivid impressions after climbing the Phi Pan Nam Mountain. Fishing on the Phayao Lake, rafting and kayaking on the Ing River, horseback riding, hiking, biking, trekking are also popular activities in Phayao Province.