Rangiroa
Resort type:

Beach resort

Landscape:

Atoll, Oceanfront, Tropical Forest

What to do:

Cycling, Diving & Snorkelling, Natural Parks & Reserves, Boat Trips, Wellness Tourism, Yachting & Sailing, Fishing & Spearfishing, Surfing, Windsurfing & Kitesurfing, SPA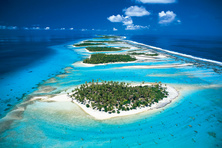 Rangiroa is a popular sea resort where the tourists can enjoy peaceful beach holidays surrounded by a stunning untouched nature. This resort is well-known as one of the best diving centres in the world.
Rangiroa is the second largest coral island on our planet situated on the Tuamotu archipelago in French Polynesia. The largest towns on the island are Avatoru and Tiputa. Rangiroa is 355 kilometres away from Tahiti.
You can come to this paradise all the year round because any season the weather here is favourable and nice. Excellent touristic infrastructure and breathtaking sea landscapes attract to Rangiroa couples, families with kids, people, who seek some isolation and want to escape the noise of a big city.
The lagoon of Rangiroa is the best place for exploring the underwater world of the Pacific Ocean. The crystal waters of the ocean allow you to see things 45 meters deep down. The resort offers excellent conditions for diving, free diving, snorkelling, water skiing, kayaking and canoeing.
The tourists who prefer more relaxed holidays, can go horseback riding, go on a cruise on a yacht or a motor boat and visit different islands. Anyone can go fishing and catch some exotic fish, swim with the dolphins or go on a tour in a boat with a glass bottom.
If you get tired of water activities, you can go biking or just take a walk among the green coconut palms. Spa centres in Rangiroa offer thalassotherapy.
Rangiroa will not disappoint those who prefer the excursion tourism. They can go on an excursion trip to the island of the Tuamotu archipelago, see a mesmerizing Blue lagoon or Motu Paio bird reserve.
You will be surely impressed by your trip to Gauguin's Pearl Farm, which has been culturing rare black pearls for many decades.