Runaway Bay
Resort type:

Beach resort

Landscape:

Seacoast, Tropical Forest

What to do:

Culinary Tourism, Golf, Diving & Snorkelling, Natural Parks & Reserves, Horse Riding, Boat Trips, Nudist Beaches, Wellness Tourism, Historical & Architectural Monuments, Yachting & Sailing, Caves, Rafting & Kayaking, Safari, Surfing, Windsurfing & Kitesurfing, Shopping, Nightlife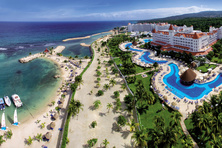 Runaway Bay is a resort city situated on the coast of the Caribbean Sea in the north of Jamaica. It belongs to Saint Ann Parish. It is 16 kilometres away from Ocho Rios.
The lovers of comfortable beach holidays choose Runaway Bay. The local beach is not crowded and a wide coast is covered with white sand, surrounded by the trees and plants. The shallow waters are safe for kids.
A rich underwater world finds favour with the divers and fans of snorkelling. The tourists can also go on a sea cruise and see bright fishes through a glass bottom of a motor boat.
There is a wide choice of activities for the extreme tourists. For example, windsurfing, kiting, sailing, and yachting. They can also play golf, ride water skis or a scooter. Jeep safari, horseback riding tour, visits to the caves, rafting and kayaking tours are organized for the tourists.
The ecological tourists come to Runaway Bay to escape the noise and fuss of big cities. They will enjoy the Dunn's River Falls, which are 23 kilometres way from the city and visit Black River Gorges National Park.
If it is the excursion tourism you are after, you will see the historical and architectural monuments or unusual natural sights. You can visit Seville Heritage Park inscribed on the UNESCO World Heritage List. Do not miss a chance to visit the Bob Marley Mausoleum in Nine Mile.
Runaway Bay is especially popular with the lovers of naturalism and there is a nude beach on the Hedonism III resort known throughout the world.
Seafood dishes served in the local restaurants will appeal to a variety of tastes of both the foodies and wellness tourists.
The best place for shopping is Runaway Bay Shopping Village. At night, you will have a great time in clubs, pubs and bars in the hotels.