Rechytsa
Resort type:

City resort

Landscape:

Town, Riverside

What to do:

Cycling, Culinary Tourism, Diving & Snorkelling, Natural Parks & Reserves, Wellness Tourism, Historical & Architectural Monuments, Yachting & Sailing, Hiking, Rafting & Kayaking, Fishing & Spearfishing, Thermal & Mineral Springs, Nightlife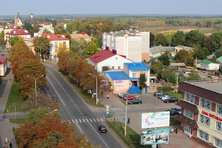 Rechytsa is a city and the administrative centre of Rechytsa District in Gomel Region situated in the southeast of the country. The city is 59 kilometres away from Gomel and 274 kilometres away from Minsk.
Rechytsa is one of the most ancient settlements in Belarus which makes it a popular centre of the excursion tourism. The main historical and architectural monuments in Rechytsa are the Holy Assumption Cathedral and the Chapel of Saint Euphrosyne of Polotsk. The tourists can also go on an excursion tour around the region to see more sights. For example, Peter and Paul Cathedral, Rumyantsev-Paskevich Palace and Park Ensemble in Gomel. The latter is a UNESCO candidate site as a masterpiece of human creative genius.
Staying in the suburbs of the city, the ecological tourists can take a walk along the Dnieper River or go fishing on the Dnieper-Bragin Water Reservoir. The tours to Smychok Landscape Natural Reserve and Zakroshinsky Mokh Hydrological Reserve are organized for the tourists. Dubrava Natural Monument presents a great touristic interest.
If you are looking for beaches, do not overlook the Dnieper coast where you can go swimming and snorkelling. The extreme tourists can go sailing, rowing, trekking, rafting, biking, kayaking or horseback riding. On the territory of a sports camp Ozerchina, one can go hunting.
Go shopping at Sekret and Galereya malls in the city of Gomel.
Solnechniy Bereg balneological resort finds favour with the wellness tourists. It is situated 25 kilometres away from Rechytsa. Peat therapeutic muds and waters from mineral or thermal sources are used here.
You will enjoy your meals in Beliy Aist and Poles'e restaurants.
At night, several night clubs open their doors. The best is Zhlondon. You will also have a fun time in Nemo and Evropa entertaining centres in Gomel.