Rhode Island
Resort type:

City resort

Landscape:

Broadleaf Forest, Oceanfront, Plain, Riverside, Hills

What to do:

Cycling, Diving & Snorkelling, Casinos, Boat Trips, Hunting, Historical & Architectural Monuments, Yachting & Sailing, Hiking, Rafting & Kayaking, Fishing & Spearfishing, Surfing, Windsurfing & Kitesurfing, Festivals & Carnivals, Shopping, Nightlife, Zoos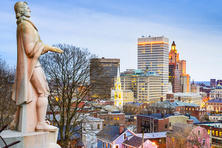 Rhode Island is an American state in the northeast of the country. It consists of a continent and an island. The state is situated on the coast of the Atlantic Ocean and belongs to the New England region. Providence is the largest city of the continent and its capital.
Rhode Island is popular with the tourists who prefer outdoor activities and the event tourism. On the territory of the state, there are about a dozen of hiking and biking routes. The most popular route is Coventry Greenway, which runs across an abandoned railway towards Coventry Park. The beaches of Rhode Island offer everything you may need for windsurfing or surfing, kayaking, canoeing, diving and sea cruises. In la Gondola, you can rent the equipment. The western part of the state is a favourite place of fishers. In the woods of the region, you can go hunting or have a picnic.
Every summer, Providence holds the festival Lights on the Water. Annual jazz and folk concerts take place in New Port.
Many architectural and historic sights can be found in the state. The tourists like to come to Roger Williams Park.
The tourists with kids should definitely go to Roger Williams Park Zoo. You will have a fun time in Fleet Skating Center.
At Providence Place Mall, you will find a great choice of American and European products.
Try your luck in a Newport Grand casino.
The official beverage of the state is coffee milk. You can try it in Gracie's. In Los Andes, they serve the South African cuisine. Siena Restaurant offers the dishes inspired by the Italian cuisine. If you do not want to spend a night in your hotel, Trinity Brewhouse entertaining club opens its doors for everyone.