Roseau
Resort type:

City resort

Landscape:

Town, Seacoast, Tropical Forest

What to do:

Culinary Tourism, Diving & Snorkelling, Natural Parks & Reserves, Wellness Tourism, Historical & Architectural Monuments, Gliding & Paragliding, Yachting & Sailing, Hiking, Surfing, Windsurfing & Kitesurfing, Festivals & Carnivals, Shopping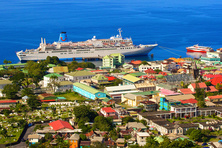 Roseau is the largest city and the capital of the Commonwealth of Dominica situated on the coast of the Caribbean Sea in the southwest of the country. It is surrounded by such cities as Trafalgar, Canefield, Loubiere and Gerodel.
On the territory of Roseau, there still preserved interesting samples of the colonial architecture, attracting the lovers of the excursion tourism. The guests of the city will learn more about the history of the country in Dominica Museum. The tourists like to walk in the French Quarter famous for its wooden buildings. The main historical and architectural monument of the city is Roseau Cathedral made of black stone.
In the capital of Dominica, the tourists can relax on well-equipped beaches, go swimming, snorkelling and water skiing. The extreme tourists will get a rush of adrenaline while paragliding, parasailing, diving, kiting, sailing or parachuting.
The ecological tourists will enjoy their harmony with nature, see the Middleham Falls and walk in Dominica Botanic Gardens. There are tours to Morne Trois Pitons National Park, which is a UNESCO site.
Those who prefer the event tourism will love to take part in the World Creole Music Festival.
Clean marine air and a good ecological situation make Roseau an ideal destination for the wellness tourists.
The foodies will treat themselves to the dishes inspired by the exotic Caribbean cuisine in such restaurants as Pearl's Cuisine, Papillote Rainforest and Marvo's.
Go shopping at such malls as La Galleri, le Rond Point and La Bateliere.