Rotterdam
Resort type:

City resort

Landscape:

Town, Riverside

What to do:

Aquaparks, Golf, Natural Parks & Reserves, Wellness Tourism, Historical & Architectural Monuments, Gliding & Paragliding, Yachting & Sailing, Hiking, Rafting & Kayaking, Surfing, Windsurfing & Kitesurfing, Shopping, Nightlife, Zoos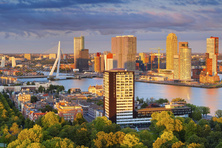 Rotterdam is a city and community situated in the southwest of the Netherlands. It belongs to South Holland Province. Rotterdam is 80 kilometres away from Amsterdam. The total area of the city is about 320 square kilometres.
In summer, Rotterdam is crowded with the lovers of the beach holidays. The city beach is organized on the shore of the Nieuwe Maas River in Boompjes Quay. The locals, however, prefer a beach in Hoek van Holland town.
The lovers of the excursion tourism choose Rotterdam to see its historical monuments, visit the museums and see the unique examples of the modern architecture. The tourists can take a walk across the central districts or take a trip to Kinderdijk town to see legendary old Mill Network at Kinderdijk-Elshout which are inscribed in the UNESCO World Heritage List.
In the city, there is an aqua park, a Zoo, bowling centres, golf fields, Monte Cervino and Steep part Klimcentrum climbing walls.
In the city malls and outlets, you will find all the goods from clothes to home appliances.
The extreme tourists can go kayaking, rafting, river windsurfing and sailing. They can also try their hand at paragliding or parachuting.
The suburbs of Rotterdam are an ideal destination for the ecologic tourism. The tourists will see how the Nieuwe Maas River falls into the North Sea and watch the animals in Diergaarde Blijdorp.
The restaurants in Rotterdam use only the freshest products and the foodies will appreciate the taste of the dishes.
At night, you will have a fun time in bars and lounge cafes. Almost all night clubs and bars are found in the downtown of Rotterdam.