Roja
Resort type:

Country resort

Landscape:

Bay Coast

What to do:

Natural Parks & Reserves, Hiking, Fishing & Spearfishing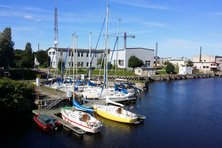 Roja is an old fishing village and the administrative centre of Roja Municipality situated on the Gulf of Riga in the Latvian Kurzeme Region. It is 52 kilometres away from Stende.
The tourists who prefer calm family holidays choose this place. In Roja, they can escape the noise of a big city, breath clean marine air and walk along the uncrowded beaches.
The lovers of fishing will love the place because they can fish right from the pier as all the locals do. For a small fee, the tourists can go into the sea in a boat with the local fishermen. Learn more about the place in the Roja Marine Fisheries Museum. The exposition of the museum will tell you how the fishermen lived here many centuries ago.
A famous natural sight in Roja is Marine Boulders scattered all over the coast. The ecological tourists will want to go to Colca and visit Slitere National Park.
Anyone can go on a trip around the region, visit such cities as Ventspils, Liepaja, Kuldiga, Irbene, Dundaga. In the cities, you will see historical and architectural monuments.
Go shopping to Peter Market in Liepaja.
You will enjoy your meals in such restaurants as Mare and Dane Guest House.
At night, Red Sun Buffet and Ego Club cocktail bars open their doors.