Zacatecas
Resort type:

City resort

Landscape:

Mountains, Steppe, Tropical Forest, Coniferous Forest

What to do:

Historical & Architectural Monuments, Amusement Parks, Hiking, Shopping, SPA, Nightlife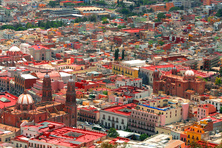 Zacatecas is a capital city of State of Zacatecas.
The city is the main destination for the excursion tourism. The historic centre of Zacatecas is under UNESCO protection. During an excursion tour, the tourists will see an amazing building of the Cathedral and Church of Santo Domingo built in the Colonial style. Among other interesting sights in the city are Government Palace and Bad Night Palace. In the downtown, there is El Cubo Aqueduct, which still provides the city with water. You will find the Aqueduct near the Quinta Real hotel.
In Rafael Coronel Museum, you will see masks of various shapes and sizes. Pedro Coronel Museum offers modern art expositions. If you appreciate ancient history, do not go past La Quemada pyramid. The tourists can also visit the Morismas de Bracho village where the Zacatecas Indians - the ancestors of the first settlers - live.
Cerro de la Bufa mountain is the best viewing platform. Leyendas De Zacatecas organizes hiking tours in the suburbs of the city and excursion tours. Those who want to get a rush of adrenaline should go to Tirolesa 840 adventure park. In the city, there is Fernando Calderon Theater. Aslith Cosmetologia offers relaxing spa treatments.
The shoppers will find many interesting things at the Gonzales Ortega Market. The souvenirs reminding of the holidays are sold in the Centro Platero shop.
Traditional Mexican dishes Fajitas and Burrito are served in Cantina Las Quince Letras restaurant. Trattoria Il Goloso offers the Italian cuisine. You can try the Spanish dishes in La Plaza. El Malacate nightclub offers a spectacular show.