Salacgriva
Resort type:

Beach resort

Landscape:

Town, Riverside, Mixed Forest, Coniferous Forest, Bay Coast

What to do:

Diving & Snorkelling, Natural Parks & Reserves, Yachting & Sailing, Hiking, Caves, Fishing & Spearfishing, Surfing, Windsurfing & Kitesurfing, Festivals & Carnivals, Nightlife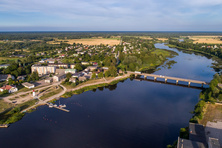 Salacgriva is a city in Salacgriva Municipality in Latvia. It is situated at the estuary of the Salaca River on the coast of the Gulf of Riga. Riga is 103 kilometres away from Salacgriva.
Salacgriva attracts the lovers of fishing and sailing. The main entertainment for the tourists in the city is sailing regattas and stonescale eel fishing in the Salaca River. Every year, the city holds Mayor's Cup Baltic Breeze yachtsmen competition. The participants gather at Kuivizhi yacht club. The club has Sailing Museum on site. The exposition is devoted to a Latvian yachtsman, USSR champion Evgeniy Kannskiy. In Salacgriva Museum, the tourists will learn more about the everyday life of the fishermen.
Those who prefer the beach holidays will love wide sandy beaches at the Gulf of Riga. They can go yachting, windsurfing and snorkelling.
A hallmark of the city is an old Salacgriva Lighthouse. Anyone can take a walk across Lamprey Weirs bridge.
If you like the event tourism, come to Salacgriva in July when Positivus Festival of rock music takes place and the Day of a Fisherman is celebrated.
The tourists with kids should not miss a chance to visit Munchhausen Landgut Dunte museum. The museum has two rooms: Munchhausen and Jacobina. On the second floor, there are wax figures.
If it is the ancient history you are after, then you should definitely visit Veczemju Mantinu Cliffs. Not far from this place is Salatsskoe settlement founded in 1126.
Enjoy the nature in Randu Plavas Reserve, which is situated in the suburbs of the city. On the territory of the reserve, there is Holiday House Randu Plavas camp.
You can buy food in Maxima X supermarket. At night Club Gia opens its doors.
The foodies will try traditional Latvian dish zeppelin potato dumplings in Ednica Brivaja Vilni. Restaurant Rankulrags offers the European cuisine.