Saldus
Resort type:

City resort

Landscape:

Town, Riverside

What to do:

Cycling, Culinary Tourism, Natural Parks & Reserves, Carting & ATVs, Historical & Architectural Monuments, Yachting & Sailing, Hiking, Fishing & Spearfishing, Shopping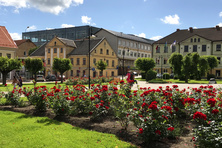 Saldus is the administrative centre of Saldus Municipality in Latvia.
Saldus is attractive for the foodies as there is a confectionery factory Druvas Partika producing its famous candies Korovka and ice-cream. During an excursion tour, you will try ice-cream with honey, chicory, egg liquor.
Saldus settlement is still preserved and the tourists can visit it. Fraenburg Castle was built at this place and later it was destroyed. However, the territory is now an important architectural monument. The tourists can go biking or hiking to the places of the historical heritage. In the suburbs of Saldus, you will find the ruins of Kerklinskij Castle built in the 17th century. The Vadakaste River runs through the city. In summer, you can relax on the beach or go fishing. Among water activities boating, yachting and sailing are available.
Those who want to feel a rush of adrenaline can ride buggies or four-wheelers at the former aviation polygon which is situated in Zvardes Mezi Natural Park. The territory occupies 8.000 Ha.
Staying in Saldus, you can get yourself acquainted with the works of an artist Baiba Ritere. She works with textile. Baiba exhibits her works in Baiba Ritere Textile Art Gallery. In the gallery, one can buy unique tapestry. You can learn more about the history of the city in Jana Rozentala Saldus Vestures un Makslas Muzejs.
A famous person born Saldus is an artist Janis Rozentāls. There is a tour to the places where the artists lived and worked including his studio.
You can have good and cheap meals in Stenders Pica.