San Diego, California
Resort type:

Beach resort

Landscape:

Town, Mountains, Oceanfront, Desert, Plain, Tropical Forest

What to do:

Historical & Architectural Monuments, Amusement Parks, Festivals & Carnivals, Shopping, Nightlife, Zoos, Oceanariums & Dolphinariums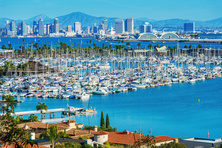 San Diego is a city and the administrative centre of San Diego County in California on the southwest of the USA. On the south, San Diego borders a Mexican city Tijuana; on the east, it has San Isidro Mountains and on the west, San Diego is washed by the waters of the Pacific Ocean. The city has a diverse landscape with plains, deserts, fertile soils and vineyards.
Soft climate and many sunny days, picturesque coast and clear waters of the ocean attract the lovers of beach holidays. The most popular beaches in San Diego are Coronado Beach, Mission Beach and La Jolla Shores Beach. If you come to San Diego from December to March, you will have a unique opportunity to watch the migration of the Californian whales.
If you prefer the excursion tourism, go on an excursion tour to see the main sights of the city. For example, Montezuma House, San Diego Center for Science and Geisel Library. Discover new things in Decorative Arts Museum of San Diego, Art Museum Timkin, Hall of Champions San Diego, Maritime Museum, Museum of Man.
The guests of the city love to walk in the city parks. The most popular are Balboa and Anza Borrego Desert State.
The tourists with kids should definitely visit the San Diego Zoo, Sea World aquarium and Sea World amusement park.
San Diego hosts many festivals which attract the lovers o the event tourism.
You can go shopping at Fashion Valley and Las Americas Premium Outlets or a local market Bazaar del Mundo.
Enjoy your meals in such restaurants as Snooze, Cottage and Cucina Urbana.
At night, Voyeur nightclub opens its doors.