San Agustin
Resort type:

Country resort

Landscape:

Mountains, Canyon, Tropical Forest

What to do:

Natural Parks & Reserves, Horse Riding, Historical & Architectural Monuments, Hiking, Caves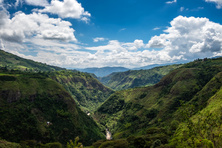 San Agustin is a city in the south of Columbia in the department of Huila. The city is 227 kilometres away from Neiva, the capital city of the Department.
In the suburbs of San Augustin, the traces of one of the most mysterious civilizations were found. In the caves, which are situated at the estuary of the Magdalena River, there are many stone figures similar to Aztec statues.
Those who are interested in the history and archaeology love to come to San Augustin. During an excursion tour, they will see the Valley of the Statues, Archaeological Park of San Augustin, El Altos de Los Idolos Archaeological Complex and Alto de Lavapatas Necropolis. All these objects are under UNESCO protection and inscribed on the UNESCO World Heritage List.
If you want to learn more about the Aztec civilization, you should definitely visit San Augustin Archaeological Museum which stores a huge collection of artefacts.
The ecological tourists are attracted by the canyon of the Magdalena River. The tourists can go horseback riding and enjoy fantastic landscapes of the Andean Cordillera, explore the local ecological system, visit ancient La Chakira Altar and Altar of El Tablon overhanging the abyss.
In archaeological parks and complexes, there are shops where the tourists can buy unusual souvenirs.
Le Peche Mignon and Donderichard restaurants serve the dishes inspired by the traditional Columbian cuisine.
At night, Tony's Grill karaoke bar opens its doors.