San Juan
Resort type:

City resort

Landscape:

Mountains, Riverside, Steppe

What to do:

Mountaineering, Cycling, Culinary Tourism, Golf, Natural Parks & Reserves, Wellness Tourism, Historical & Architectural Monuments, Gliding & Paragliding, Hiking, Fishing & Spearfishing, Thermal & Mineral Springs, Shopping, Nightlife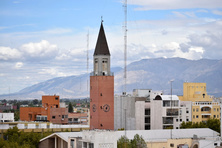 San Juan is a municipality and the administrative centre of San Juan Province in Cuyo Region. It is situated in the northwest of the country not far from the Chilean border. The total area of the city is 30 square kilometres. It is 170 kilometres away from Mendoza and 580 kilometres away from Cordoba.
San Juan is the main destination for the foodies because the city and the province have a well-developed wine production industry. Tasting tours to such vineyards as Bodega Las Marianas and Champagnera Cavas de Zonda are organized for the tourists where they can taste different types of wines. Traditional Argentinian dishes are served in La Cava, Club Espanol, Thonet restaurants.
The ecological tourists will want to go to the suburbs of the city and walk along the San Juan River or go to Talampaya National Park or Ischigualasto Provincial Park, which are under UNESCO protection.
The extreme tourists can go hiking or fishing on the San Juan River or Jachal River. They can also try and cross Agua Negra Pass or try their hand at paragliding, climbing, biking, horseback riding, trekking and hang-gliding. In the city, there is also Amancay golf club.
The wellness tourists should go to Pismanta resort which is 180 kilometres away from San Juan. The tourists will feel a positive effect of the local thermal sources on their health.
The National Day of the Sun is celebrated not only in the city, but in the province as well attracting the lovers of the event tourism.
If it is the excursion tourism you are after, then you should get yourself acquainted with such historical and architectural monuments as Difunta Correa Shrine, San Juan Cathedral, Casa Domingo Faustino Sarmiento.
You will have a great shopping at Libertad, patio Alvear Shopping and Espacio San Juan malls.
At night, Puros Amigos, El Batey and El Farolito bars open their doors.