St. Gallen
Resort type:

City resort

Landscape:

Town, Lakes, Riverside, Hills

What to do:

Mountaineering, Cycling, Culinary Tourism, Downhill Skiing, Horse Riding, Boat Trips, Wellness Tourism, Historical & Architectural Monuments, Hiking, Rafting & Kayaking, Surfing, Windsurfing & Kitesurfing, Snowboarding, Festivals & Carnivals, SPA, Nightlife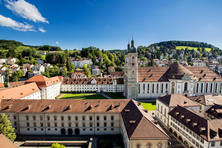 Saint Gallen or Sankt Gallen is a city and the administrative centre of Canton of Saint Gallen situated in the valley of the Steinach River not far from the Lake Constance in the southeast of the country. The total area of the city is 40 square kilometres and it is 86 kilometres away from Zurich.
Those who love the excursion tourism come to the city to see its unique historical and architectural monuments. The most interesting is the Abbey of Saint Gall which is under UNESCO protection. The tourists should also visit Saint Laurenzen Church, explore the exposition in Textile Museum and Point Jaune Museum. You can also go on a trip around the region and visit Prehistoric Pile dwellings around the Alps. UNESCO declared the prehistoric pile dwellings World Heritage sites.
The ecological tourists will want to walk in the Cantonal School Park, visit Wildlife Park Peter and Paul, watch its inhabitants. Staying in the suburbs of the city, the tourists will enjoy the beauty of the Lake Constance, go on a cruise along the Steinach River or explore the ecological system of Appenzell Alps.
The extreme tourists prefer to come to the city in winter when Appenzell Ski Resort opens its doors. The resort is 18 kilometres away from Saint Gallen. The guests of the resort can go alpine skiing or snowboarding. In summer, they can try their hand at climbing in the Appenzell Alps, rafting, biking, horseback riding, paragliding lake windsurfing and kiting.
Einstein Saint Gallen Hotel has a wellness centre Congress Spa on site offering massage and spa treatments.
Many festivals and celebrations including Saint Gallen Open Air Festival or Saint Gallen Festival attract the lovers of the event tourism to the city.
The foodies will enjoy their meals in Focacceria and La Vigna restaurants.
The best nightclubs are Trischli and Elephant.