Santa Cruz
Resort type:

Country resort

Landscape:

Mountains, Lakes, Riverside, Tropical Forest

What to do:

Aquaparks, Culinary Tourism, Natural Parks & Reserves, Horse Riding, Wellness Tourism, Historical & Architectural Monuments, Gliding & Paragliding, Amusement Parks, Hiking, Rafting & Kayaking, Fishing & Spearfishing, Surfing, Windsurfing & Kitesurfing, Festivals & Carnivals, Shopping, Nightlife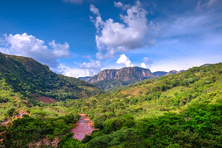 Santa Cruz is the largest Bolivian department with the total area of over 370.500 square kilometres. Santa Cruz Department occupies some central and the entire eastern part of the country. It borders Brazil and such other departments as Beni Department, Cochabamba Department, Chuquisaca Department. The capital city is Santa Cruz de la Sierra where over 1.600.00 people live.
The Department is an important centre of the ecological tourism as there is Rios Blanco y Negro Wildlife Reserve and such national parks as Noel Kempff Mercado or Amboro National Park. Over 912 species of birds live in Amboro National Park. Noel Kempff Mercado National Park is inscribed in the UNESCO World Heritage List. The tourists can take a walk along the shore of the Rio Grande de Tarija River and go fishing on the Concepcion Lake.
Those who prefer the excursion tourism will have a chance to explore the artefacts found during the excavations at Fuerte de Samaipata which is a World Heritage Site. Among other important historical and architectural sites are Catedral of Santa Cruz or Jesuit Missions of the Chiquitos which are under UNESCO protection.
Go on a rafting tour and feel a rush of adrenaline. The extreme tourists can also go horseback riding, paragliding, lake windsurfing, hiking in the Andes.
The largest in the country International Theater Festival, which takes place in the capital of the Department attracts many lovers of the event tourism.
If it is city entertainments you are after, you can go to the Buffalo amusement park, Aqualand Water Park. Go shopping at Casa Design Center, New York Mall, IC Norte. At night, Space Disco and Set Night nightclubs open their doors.
Nancy Spa Medico wellness centre in the capital invites the wellness tourists.
You will try typical dishes of the Bolivian cuisine in such restaurants as El Arriero and Goss.