Santa Cruz
Resort type:

City resort

Landscape:

Town, Riverside

What to do:

Cycling, Culinary Tourism, Natural Parks & Reserves, Casinos, Horse Riding, Wellness Tourism, Historical & Architectural Monuments, Gliding & Paragliding, Hiking, Rafting & Kayaking, Surfing, Windsurfing & Kitesurfing, Festivals & Carnivals, Shopping, SPA, Nightlife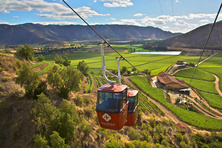 Santa Cruz is a city and the administrative centre of Chilean Santa Cruz Commune in Colchagua Province and a unique Libertador General Bernardo O'Higgins Region (often shortened to O'Higgins Region). The city is situated on the southern shore of the Tinguiririca River in the central part of the Republic. It is 40 kilometres away from San Fernando and 180 kilometres away from Santiago.
The lovers of the excursion tourism can take a walk across De Armas Square, see such historical and architectural monuments as Santa Cruz Church or Carillon Clock. Museum of Colchagua has an interesting exposition. The tourists can also go on an excursion tour across the Province and see Sewell Mining Town which is a UNESCO site.
If you prefer the event tourism, you will have a chance to take part in Valle de Colchagua Grape Harvest Festival.
If it is city entertainments you are after, you can go shopping at Eco Bazar and Mall Chino Santa Cruz. Try your luck at gambling in Colchagua casino. At night, RaggaJam, Amnesia, Espacio Cero nightclubs open their doors.
The extreme tourists will get unforgettable impressions from riding a hot-air-balloon, hiking in the suburbs, horseback riding, biking, rafting, paragliding and windsurfing on the Tinguiririca River.
Such hotels as Noi Blend Colchagua and Cava Colchagua have wellness centres on site offering a massage or spa treatments.
The ecological tourists will want to visit Rio Los Cipreses national reserve. There are also tours to El Morado Natural Monument and Colchagua Valley.
The dishes inspired by the exotic Chilean cuisine are served in Casa Colchagua, Puralma and Etiqueta Negra restaurants. The foodies will have a chance to go on a tour to vineyards Lapostolle Clos Apalta, Laura Hartwig and Estampa. During a tour, the tourists will taste the local wines.