Saint Croix
Resort type:

Beach resort

Landscape:

Mountains, Seacoast, Island, Tropical Forest

What to do:

Culinary Tourism, Diving & Snorkelling, Natural Parks & Reserves, Wellness Tourism, Historical & Architectural Monuments, Gliding & Paragliding, Hiking, Fishing & Spearfishing, Surfing, Windsurfing & Kitesurfing, Festivals & Carnivals, SPA, Nightlife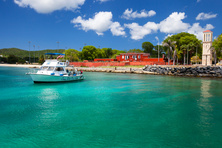 Saint Croix is an island, Saint Croix County and Saint Croix Constituent District in the United States Virgin Islands which belong to the United States of America. The island is situated in the Caribbean Sea not far from the British Virgin Islands and the Puerto-Rico Island.
Clean sandy coast, surrounded by the lush tropical vegetation attracts to Saint Croix thousands of lovers of the beach holidays. A lot of coral reefs around the island and the remnants of the sunken ships create good conditions for diving. The best place for diving is Buck Island Reef. In the leeward area, the tourists can go surfing. The extreme tourists should go to Rainbow Beach and the Cane Bay to take kiting or windsurfing lessons. There is a great choice of other activities, for example, paragliding, parasailing, kayaking, snorkelling, sea fishing and deep underwater hunting.
The exotic nature of Saint Croix makes it a popular centre for the ecological tourism. The guests of the resort can go on an exotic tour to Sandy Point wildlife reserve and watch the leatherback sea turtles. If you stay in Frederiksted, take a walk in Saint George Village Botanical Garden.
The excursion tourists will see partly preserved historical and architectural monuments of the Victorian epoch such as Saint Patrick's Catholic Church or Customs House.
Renaissance Saint Croix Carambola hotel has a wellness centre on site offering spa treatments and massage.
The event tourism is maintained here thanks to the annual Crucian Christmas Carnival.
Go to Christiansted to treat yourself to the dishes inspired by the exotic island cuisine in Galangal and Savant restaurants. In the city, you will find 2 Plus 2 Disco nightclub.