Santa Marta
Resort type:

Beach resort

Landscape:

Town, Seacoast, Tropical Forest

What to do:

Culinary Tourism, Diving & Snorkelling, Natural Parks & Reserves, Wellness Tourism, Historical & Architectural Monuments, Yachting & Sailing, Hiking, Fishing & Spearfishing, Surfing, Windsurfing & Kitesurfing, Shopping, SPA, Nightlife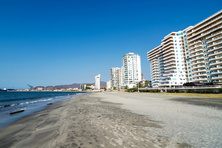 Santa Marta is a city and the administrative centre of the Columbian Magdalena department situated on the coast of the Caribbean Sea in the north of the country. The total area of the municipality is about 2.400 square kilometres. It is 104 kilometres away from Barranquilla and 850 kilometres away from Medellin.
The oldest city in Columbia preserved its historical or architectural monuments and that is why it is one of the main destinations for the excursion tourism. In Santa Marta, you will see Saint Jeronimo Church, Catedral of Saint Marta, Ciudad Perdida Archaeological Site which is a UNESCO candidate.
Unique nature of the suburbs attracts the ecological tourists. They will enjoy the beauty of Valencia Brook's Waterfalls, take a walk in the Ambental Palagan Park. A special place in Santa Marta is Salamanca Island National Park.
If you prefer to relax on the beach, you will have this chance. The most popular white sandy beaches are Cristal Beach and Blanca Beach. You can go kiting, windsurfing, surfing, yachting and fishing. The extreme tourists can go diving in Del Chino Bay.
Nakua Spa hotel has a modern wellness centre on site offering massage and relaxing spa treatments.
Go shopping at such malls as Arrecife, Buenavista and Ocean.
The foodies will treat themselves to the unusual seafood dishes in Lulo, Lamart and Donde Chucho.
The most popular nightclubs are Miko and Drake Lounge.