Santarem
Resort type:

City resort

Landscape:

Town, Riverside, Flora of the Mediterranean

What to do:

Cycling, Culinary Tourism, Diving & Snorkelling, Wellness Tourism, Historical & Architectural Monuments, Gliding & Paragliding, Yachting & Sailing, Hiking, Surfing, Windsurfing & Kitesurfing, Festivals & Carnivals, SPA, Nightlife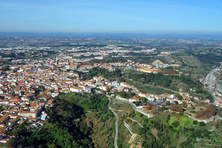 Santarem is a Portugal city and the administrative centre of Santarem Municipality, District of Santarem and Ribatejo Province. The city is situated on the right shore of the Tagus River not far from the Atlantic Ocean in the central part of the country.
Old historical and architectural monuments make Santarem one of the most popular centres of the excursion tourism in Portugal. The tourists will see the Old Castle of Santarem, Cabacas Tower and Fountain of the Fig Tree; visit the Archaeological Museum. Do not overlook Convent of Saint Claire and Convent of Saint Francis. These buildings are the architectural models of the 13th century. If you take a trip across the District, you will see such sights as the Castle of Almourol, the Sanctuary of Fatima and Castle of Torres Novas. Convent of Christ in Tomar, inscribes on the UNESCO World Heritage List.
Those who prefer the beach holidays can spend time in a coastal region Foz do Arelho and try their hand at kiting, sailing, diving, windsurfing or yachting. The extreme tourists can go hiking in the suburbs of Santarem, biking or horseback riding in Portas do Sol Garden. There is also everything they may need for paragliding, hang-gliding and kayaking on the Tagus River. There is Aquatic Complex of Santarem.
Dom Goncalo and Lusitano hotels have wellness centres on site offering spa treatments.
The annual Folklore Celestino Graca Festival attracts those who prefers the event tourism.
The ecological tourists should definitely go to Serras de Aire e Candeeiros Natural Park.
Chapa 7 and O Chicote restaurants serve traditional Portugal dishes.
At night Metropolis, MusicBox and Ferroviario open their doors.