Santiago
Resort type:

Beach resort

Landscape:

Mountains, Island, Oceanfront, Tropical Forest, Hills

What to do:

Mountaineering, Culinary Tourism, Diving & Snorkelling, Wellness Tourism, Historical & Architectural Monuments, Yachting & Sailing, Fishing & Spearfishing, Surfing, Windsurfing & Kitesurfing, Shopping, SPA, Nightlife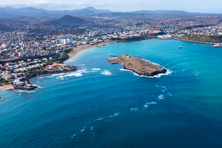 Santiago is an island with the total area of about 991 square kilometres situated in the central part of the Atlantic Ocean. It is part of the Republic of Cape Verde. The island neighbours the Maio Island and the Fogo Island. It is one of the islands of Sotavento Archipelago.
The lovers of the beach holidays will enjoy a white sandy coast where they can go snorkelling and swimming. The most popular beaches among the tourists are Tarrafal Beach, Quebra Canela Beach and Prainha Beach. The extreme tourists can try their hand at kiting, windsurfing, surfing, sailing, fishing and diving.
Santiago is one of the most popular centres for the ecological tourism. The tourists will enjoy the beauty of tropical flowers and plants in Jardim Botanico. The lovers of nature should not overlook the Serra da Malagueta mountain surrounded by a picturesque eucalyptus forest.
You can go shopping to the street markets in Praia (Sucupira Market) and in Assomada (Assomado Market).
Pestana Tropico, Oasis Praiamar and Vip Praia have wellness centres on site. They offer a course of massage or spa treatments.
The foodies will treat themselves to the seafood delicacies. Ipanema, Pescador, and Maracuja restaurants offer the dishes inspired by the Mediterranean cuisine.
The lovers of the excursion tourism prefer to stay in the capital city of Cape Verde, Praia. They will see such historical and architectural monuments as Barracks Jaime Mota and Maria Pia Lighthouse. Don't miss a chance to explore the expositions of Archeology Museum of Praia and Ethnography Museum. The most important sight on the island is Cidade Velha historic centre in Ribeira Grande, which is a UNESCO site.
At night some bars and clubs open their doors. The best are Suave Lounge and Ilheu Bar.