Sapporo
Resort type:

City resort

Landscape:

Town, Mountains, Broadleaf Forest, Plain, Riverside

What to do:

Culinary Tourism, Downhill Skiing, Sport Tourism, Snowboarding, Festivals & Carnivals, Shopping, Nightlife, Zoos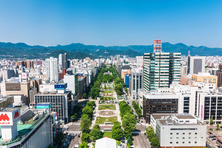 Sapporo is the fourth largest city in Japan and the administrative centre of Hokkaido Prefecture. Sapporo is situated in the southwest of the Ishikari Plain near the Toyohiro River and the tributary of the Ishikari River. In the south and the west of the resort are the Thane Mountain, the Maruyama Mountain, the Moiwa Mountain. In the mountains, the tourists will find ski resorts. Professional skiers prefer Okura Observatory, the beginners should go to Sapporo Teine and Moiwayama Ski Area. The best resort for snowboarders is a Sapporo International Ski Place.
Sapporo will be a discovery for the foodies who will not only visit restaurants serving traditional Japanese dishes, but can also participate in cooking master-classes.
The lovers of the excursion tourism will also love the city. The resort is famous for its picturesque parks, cultural and scientific centres. The tourists can take a walk in the Botanic Garden of Sapporo, which can boast of a unique collection of plants. On the territory of the Garden, there are University Museum and Ainu Museum. Do not overlook Nakajima Park. The tourists with kids should definitely go to North Safari Zoo with an amusement park.
Those who are interested in the natural sights will want to go on an excursion to the Moiwa Mountain.
Sapporo holds many festivals and celebrations which makes it a popular place for those who loves the event tourism.
However, the city is not the place to have an active nightlife. The tourists can dance in Precious Hall club.
Stellar Place, Daimaryu, Sapporo Factory invites everyone to make purchases.