Saint Catherine
Resort type:

Country resort

Landscape:

Mountains

What to do:

Mountaineering, Culinary Tourism, Diving & Snorkelling, Carting & ATVs, Wellness Tourism, Historical & Architectural Monuments, Yachting & Sailing, Safari, Surfing, Windsurfing & Kitesurfing, SPA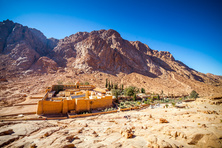 Saint Catherine's Monastery is one of the oldest working Christian churches in the world. It was founded in the 4th century. The Monastery is located in the central part of the Sinai Peninsula at the foot of the Mount Sinai on the territory of Egypt. This monastery complex is populated largely by the Orthodox Greeks. The Monastery is a UNESCO site.
Religious people and pilgrims choose this place. The lovers of the excursion tourism will not be bored here as well. On the territory of Saint Catherine's Monastery, there are many historical and architectural monuments. The tourists will see the Well of Moses, Holy Spirit Chapel, Saint John the Evangelist Chapel, Saint Anthony Chapel, the ossuary and the cemetery. Staying in this place, pay attention to the unique collection of icons having not only religious but also historic and artistic value. The Monastery is world famous for its library, storing the manuscripts of the 6th century, 20 sheets of the oldest Bible in the world, many ancient manuscripts in Arabian, Georgian, Syrian, Ethiopian, Armenian and Slavic languages.
The extreme tourists can go climbing or canyoning on the Mount Sinai. The tourists can also go on a trip to Dahab situated on the shore of the Gulf of Aqaba 130 kilometres away from the Monastery. There is a wide choice of activities for the active tourists such as windsurfing, diving, parasailing, snorkelling, kiting, and yachting. Camel safari tours and riding four-wheelers are also popular with the tourists.
The event tourism in Saint Catherine's Monastery is closely connected with the Christian holidays. The most popular, of course, is Christmas and Easter. There is no nightlife in the Monastery.
We recommend going to Sharm El Sheikh for a good shopping. There are Genena City and La Strada malls. Dolphino restaurant serves traditional seafood dishes.
The ecological tourists will want to explore the underwater world and coral reefs of the Red Se Grand Rotana hotel has a wellness center on site offering relaxing spa treatments.