Sevan
Resort type:

Country resort

Landscape:

Mountains, Broadleaf Forest, Lakes, Mixed Forest, Coniferous Forest

What to do:

Mountaineering, Cycling, Culinary Tourism, Natural Parks & Reserves, Casinos, Horse Riding, Wellness Tourism, Historical & Architectural Monuments, Hiking, Fishing & Spearfishing, Surfing, Windsurfing & Kitesurfing, Thermal & Mineral Springs, SPA, Nightlife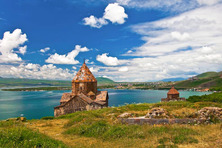 The Sevan Lake is the largest lake in the Caucasus. It is situated high in the mountains on the territory of Armenia. Its total area is 1.240 square kilometres. Near the lake, you will find Sevan National Park.
This place is one of the main destinations for the active people who prefer outdoors activities. There is a wide choice of water activities such as rafting, kayaking, sailing, fishing and sea cruises. On the coast of the lake, there are well-equipped beaches and sports centres. If you have good stamina, you can try and climb Azhdahak volcano which is the highest point of the Geghama Range.
The tourists can go on a tour to the Sevan National Park. Its total area is 150.000 Ha. In the park, you can watch birds and animals. The park is divided into the reserves, recreational areas and places for domestic purposes.
On the northwestern shore, there is Sevanavank Monastery, a monument of the ancient civilization. It was founded in 874. The tourists will see Such churches as Surb Harutyun and Surb Karapet built by Gregory the Illuminator. Not far from the Monastery, you can buy souvenirs which will remind you of your trip.
Hayravank Monastery is the hallmark of the western shore. The Monastery was built approximately at the same time as Sevanavank.
In the city, you will find cheap and more expensive hotels and inns. Best Western Bohemian is for the tourists who love the highest level of comfort and service. There is a pool, a sauna, tennis and squash courts, disco, bar or restaurant on site. Sevan Lake Cottages offer more attractive prices. Also, there are special places with barbecue and summer houses.
Traditional Armenian cuisine, Sevan crawfish and a legendary Ararat cognac are served in Nirvana restaurant.