North Dakota
Resort type:

Country resort

Landscape:

Canyon, Lakes, Plain, Riverside, Steppe, Hills

What to do:

Mountaineering, Cycling, Culinary Tourism, Golf, Natural Parks & Reserves, Casinos, Carting & ATVs, Hunting, Historical & Architectural Monuments, Amusement Parks, Hiking, Safari, Festivals & Carnivals, Shopping, Nightlife, Zoos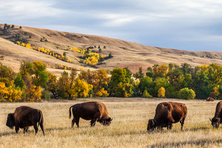 North Dakota is an American state in the central part of the USA. The administrative centre is Bismarck. The city of Fargo is the largest by the area and the population. The largest touristic centres are Minot and Grand Forks.
The active tourists and the lovers of the event tourism choose North Dakota. In the southwest of the state, there is Theodore Roosevelt National Park. In the park, you will find trails for hiking and trekking. You can have a picnic there or go hunting. Jeep safaris and four-wheeler tours are arranged for the tourists. During such tours, they can see an American buffalo, a symbol of North Dakota. A popular trekking route passes through the Painted Canyon Overlook. The extreme tourists can go canyoning and climbing.   
In the past, the territory of North Dakota was occupied by the Indians Siu. So, the tourists can go on an excursion tour to see the historic heritage of the Indian tribes. We recommend the excursion Indian Villages Historic Site. The village reconstructs the everyday life of the Indian tribes in the pre-Columbian era.
There are a lot of museums in this region. The most famous is the Empire Arts Center situated in the Grand Forks. In this exhibition centre, you will see various creative forms from painting to extravagant performances. 
North Dakota holds different festivals and celebrations throughout the year. Those who love cinema come here every spring to take part in Fargo Film Festival. In summer, the shoppers go to North Dakota State Fair, which takes place in Minot. 
Biking, horse and carriage rides are a popular entertainment here.
The tourists who come to North Dakota with children should definitely visit Superslide Amusement Park in the capital city. They will have a great time in Dakota Zoo.
The active tourists can play golf at Riverwood Golf Course. If you want to try your luck in gambling, go to Nickle's Lounge & Casino.
Do not miss a chance to try a legendary bison meat steak. It is served in Pirogue Grille, for example. Crooked Horn Tavern have parties in a Wild West style.