North Carolina
Resort type:

Country resort

Landscape:

Mountains, Broadleaf Forest, Lakes, Oceanfront, Plain, Riverside, Coniferous Forest, Hills

What to do:

Aquaparks, Cycling, Golf, Downhill Skiing, Diving & Snorkelling, Natural Parks & Reserves, Boat Trips, Wellness Tourism, Amusement Parks, Yachting & Sailing, Hiking, Rafting & Kayaking, Safari, Surfing, Windsurfing & Kitesurfing, Snowboarding, Shopping, Nightlife, Zoos, Oceanariums & Dolphinariums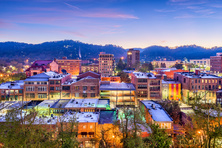 North Carolina is an American state in the east of the country. The capital city of the region is Raleigh. The largest cities are Charlotte, Greensboro, Fayetteville and Wilmington.
North Carolina is an all-the-year-round destination for the active tourists. In winter, it attracts the lovers of cross-country skiing, alpine skiing, snowboarding, snowkiting and hockey. In summer, those who love the beach holidays prefer to go to the coastal region. They can go on a sea cruise, kayaking, yachting, rafting, diving, windsurfing and SUP surfing.
The central part of the region is ideal for hiking, trekking and biking. In Great Smoky Mountains National Park, there are jeep safari and four-wheeler tours arranged for the tourists. On the territory of the Park, you will find the most famous and the longest in the USA Appalachian Trail.
Do not miss a chance to visit Wright Brothers National Memorial built in honour of Wright brothers, the inventors of the first successful airplane. One of the main sights of the state is Old Salem. It is part of the reconstructed old Moravian village in the open air.
The most preferred sports in North Carolina is golf. There are several golf fields in the large cities of the state. If you want to get a rush of adrenaline, you can visit adventure parks for climbing and zip line, ride a hot-air balloon or try parachuting. The tourists with kids should definitely go to oceanariums, amusement parks, zoos or aqua parks. The most popular amusement park Carowinds is situated in Charlotte.
In Raleigh and Greensboro, you will find good outlets or malls.
A hallmark dish of the state is pork barbecue. Well done meat is served with hot or sweet ketchup sauce. You can try this dish in Seafood Grill restaurant in the capital city. The best place for night entertainments is Kings Bowl North Hills with a disco, bowling and karaoke.