Cerf Island
Resort type:

Beach resort

Landscape:

Mountains, Jungle, Island, Oceanfront, Tropical Forest

What to do:

Cycling, Diving & Snorkelling, Natural Parks & Reserves, Boat Trips, Wellness Tourism, Yachting & Sailing, Hiking, Fishing & Spearfishing, Surfing, Windsurfing & Kitesurfing, SPA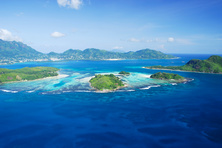 Cerf is a small island on the Seychelles Archipelago. It is 3 kilometres away from the Mahe Island. Cerf is located on the territory of the National Marine Sanctuary and is washed by the waters of the Indian Ocean.
This tiny island is an exotic and very beautiful natural area. On the island, you will not find any roads, shops or other infrastructure. But the tourists will see luxurious beaches with pink sand, sapphire waters, and a diverse underwater world. The beaches in Cerf attract those who want to escape city noise for the sake of calmness and isolation. There is a great choice of activities on the island from diving, surfing, snorkelling, yachting to volleyball and tennis. There are very good conditions for fishing. The travellers can go hiking or biking across Cerf or take a boat trip.
There are spa salons, wellness centres, and massage salons on the island.
Cerf is a very popular destination among the newlyweds and romantic persons. They can stay alone on the isolated beaches and enjoy the sunset.
The foodies will try traditional Creole dishes at the local restaurants.