Shikoku
Resort type:

Country resort

Landscape:

Mountains, Broadleaf Forest, Seacoast, Island, Oceanfront, Riverside, Coniferous Forest

What to do:

Mountaineering, Cycling, Mountain Trails, Diving & Snorkelling, Natural Parks & Reserves, Wellness Tourism, Historical & Architectural Monuments, Yachting & Sailing, Hiking, Thermal & Mineral Springs, Shopping, SPA, Nightlife, Religious Pilgrimage, Zoos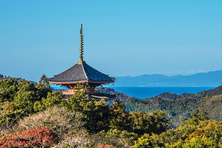 Shikoku is a Japanese island in Shikoku Region. It is the 50th largest island in the world. Shikoku is washed by the Pacific Ocean and the Seto Inland Sea. The largest touristic centres are Tokushima, Takamatsu and Matsuyama.
Shikoku is a popular destination for the ecological, active and wellness tourism. The tourists will relax on Takahama Coast and Hojo Kashima beaches. Among popular water activities are yachting, sailing, fishing, sea cruises and snorkelling.
The hallmark sight of Matsuyama is Matsuyama Castle. On the territory of the Castle, there is a viewing platform and a collection of old weapons and armours. The main pilgrimage centre of Matsuyama is Isaniwa Shrine. In the city, the tourists will find many spa centres and thermal resorts. The most popular is Dogo Onsen Main Hall.
In the city of Takamatsu, there is one of the most beautiful Japanese gardens – Ritsurin Park. The tourists can go hiking and biking along the picturesque alleys of the Garden. The active tourists can also climb the Washinoyama Mount. They can also go trekking and hiking.
The lovers of ancient history should definitely take a trip to the city of Tokushima to make pictures of the ruins of Tokushima Castle. In Tokushima Castle Museum, the tourists will learn about how the castle was built and then demolished. The Museum also houses the artefacts found on the territory of the Castle. After the excursion, you can relax on Komatsu Beach.
The lovers of shopping should walk along Matsuyama Gintengai, the main shopping street. Japanese and European brands can be found in at the Kawaramachi Flag mall in Takamatsu.
The tourists with kids should not miss a chance to go to the New Yashima Aquarium in Takamatsu. In Tokushima Zoo, you will see wild animals. In Matsuyama, you will find a large playing centre Ehime Children's Castle.
Inotani restaurant in Tokushima serves the Asian cuisine. The foodies will treat themselves to the French cuisine in Gofu Juu restaurant in Takamatsu. At night, you can go to a KoKoPeLLi nightclub in Matsuyama.