Sinharaja
Resort type:

Country resort

Landscape:

Mountains, Tropical Forest, Hills

What to do:

Natural Parks & Reserves, Hiking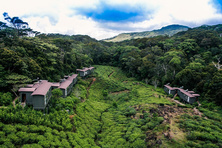 Sinharaja is a national park in Sri Lanka which is part of several biosphere reserves. It is situated in the southwest of the island and is inscribed on the UNESCO World Heritage List. The Park occupies the territory of 88.64 square kilometres.
The natural landscape of the Sinharaja Forest Reserve is valleys and mountain ranges. The tourists can see unique relict rainforests. Some of the trees can be found only on the territory of this reserve.
When visiting this national park, it is strongly recommended to wear the clothes covering your body to protect yourself against mosquitoes. The excursion lasts about 3 hours. During it, the tourists will see rare species of reptiles, butterflies, plants and birds. The park is the habitat for the Indian elephants and leopards. The luckiest ones will have a chance to see a rare Ceylon magpie.
One can get to the forest from different sides of the park: from the southeast, southwest, east or northeast. Walking in the forest, the tourists will see the Sinhagala Mountain. Sinhagala Trek is the most popular with the active tourists.
To remember your journey, you can buy a figurine of a Ceylon elephant. The souvenirs are sold in souvenir shops near the park. There is also a small eatery where you can have a meal.