Syros
Resort type:

Beach resort

Landscape:

Mountains, Seacoast, Island, Cliffs, Flora of the Mediterranean

What to do:

Diving & Snorkelling, Natural Parks & Reserves, Nudist Beaches, Historical & Architectural Monuments, Yachting & Sailing, Hiking, Fishing & Spearfishing, Surfing, Windsurfing & Kitesurfing, Nightlife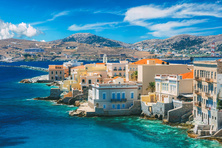 Syros is the most densely populated island on the Greek archipelago Cyclades. On its territory, there is the largest city Ermoupolis.
The lovers of beach holidays and the excursion tourism prefer to come here. The Old Town of Ermoupolis is on the UNESCO World Heritage List. The hallmark of the city is Ermoupolis City Hall built in the Neoclassical style. There is a small park around the Hall, where you can have a rest or walk along the alleys.
If you are strong enough and not afraid of walking for a long time, you should visit Agios Stefanos rock church.
Archaeological Museum of Syros houses the artefacts that were found during the excavations. In Ermoupolis Industrial Museum, you will see machines for stamping coins and other interesting objects. In the local art galleries, you will enjoy the works of the local artists.
Galissas village is a popular place with the ecological tourists. There are such white sandy beaches as Galissas Beach and Agathopes Beach. The latter found favour with those who prefer to sunbathe naked. The tourists with kids choose Kini Beach. You can try your hand at such water activities as surfing and windsurfing, sailing, yachting, fishing, kayaking, diving, snorkelling.
You can visit the Apollon Theater to get acquainted with the local culture. In Syros Dance Center, they will teach you a Greek dance Sirtaki. Agora club opens its doors at night. In Adonakis Jewelry, women can buy jewellery. Kouzina Restaurant serves traditional Greek dishes. In Amvix, you will enjoy the dishes inspired by the Italian cuisine.