Seattle, Washington
Resort type:

City resort

Landscape:

Town, Broadleaf Forest, Lakes, Coniferous Forest, Hills, Bay Coast

What to do:

Cycling, Culinary Tourism, Golf, Natural Parks & Reserves, Horse Riding, Wellness Tourism, Historical & Architectural Monuments, Gliding & Paragliding, Amusement Parks, Hiking, Rafting & Kayaking, Fishing & Spearfishing, Surfing, Windsurfing & Kitesurfing, Festivals & Carnivals, Shopping, SPA, Nightlife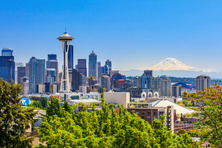 Seattle is a large port city in the State of Washington and the administrative centre of King County. It is situated between the Washington Lake and the Puget Sound in the northwest of the USA. The city is 98 kilometres away from Olympia and 230 kilometres away from Yakima.
Seattle is a perfect place for the city holidays. There are a lot of bars and entertaining complexes, large nightclubs such as Trinity, Foundation, Volume, and Showbox at the Market; Pacific Place, Westfield Southcenter and Westlake Center malls. The tourists with kids will have a great time together in such amusement parks as Apollo Amusement and Fun Forest or Woodland Zoo.
Paragliding, hand-gliding, parachuting and rope jumping will give a rush of adrenaline to the extreme tourists. The active tourists can also go rafting, fishing, horseback riding, hiking and biking. Master your golf skills on the fields of West Seattle Golf Club. If you prefer to relax on the beach then go to Alki beach, Madison Park and Beach or Golden Gardens Park. The beaches have everything you may need for kiting, yachting, windsurfing and water skiing.
For the foodies cooking tours are organized. The most popular are Taste Seattle Food Tour. You will enjoy your meals in such restaurants as Altura, Metropolitan Grill and Bacco.
The event tourism is well-developed in the city thanks to the Seattle Film Festival, Gay Pride and Seattle Hempfest.
The wellness tourists come to Seattle to improve their health in the medical centres and clinics of the city. Spa Noir, Elaia Spa, Seattle Executive Spa wellness centres offers spa treatments.
Those who prefer the excursion tourism will see such historical and architectural monuments as Smith Tower, Seattle City Hall, Christ Our Hope Catholic Church.
The ecological tourists will surely want to visit Mount Rainier and Olympic National Parks.