Solovetsky Islands
Resort type:

Country resort

Landscape:

Mountains, Seacoast, Lakes, Island, Coniferous Forest, Hills, Tundra

What to do:

Cycling, Natural Parks & Reserves, Boat Trips, Historical & Architectural Monuments, Yachting & Sailing, Hiking, Fishing & Spearfishing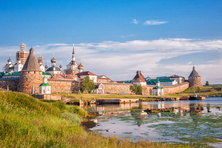 The Solovetsky Islands are the archipelago in the White Sea, situated at the entry to the Onega Bay. Solovky belong to Arkhangelsk Region in the Russian Federation. The archipelago consists of 100 small and 6 large islands. The largest is Bolshoy Solovetsky Island.
Unique nature and a rich history of the Solovetsky Islands are the reason why they attract hundreds of people who prefer the excursion tourism. Solovky and the adjoining coastal region are acknowledged as a specially protected zone. Solovetsky State Historical, Architectural and Nature Museum-Reserve the territory, which occupies the entire archipelago, was listed as a UNESCO site.
The main historical and cultural sight and a religious centre of the islands is Solovetsky Monastery. The Christian pilgrims and just the lovers of the excursions visit the Monastery to enjoy its splendid architecture of the end of the 15th century. Uspensky Cathedral, Preobrazhensky Cathedral, Church of Annunciation and Church of Nicolas is just a small part of what you can see during your excursion on the territory of the Monastery.
The ecological tourists will remember the Solovetsky Islands by a perfect beauty of dark blue lakes. The tundra landscape leaves no one indifferent. From the Sekirnaya Mountain, the highest peak of the archipelago, you will see a stunning view of the Islands and the endless sea. Many tourists come to the island to watch beluga whales at the Cape Beluzhiy.
The active tourists can go hiking, biking, boating and deep sea underwater hunting. You can also go on a sea cruise to the Bolshoy Zayatsky Island, which preserved such ancient archaeological monuments as Solovetsky Labyrinths which dates back to the 1-2 centuries B.C.