Seongnam
Resort type:

City resort

Landscape:

Town, Riverside

What to do:

Mountaineering, Culinary Tourism, Wellness Tourism, Historical & Architectural Monuments, Gliding & Paragliding, Amusement Parks, Festivals & Carnivals, Shopping, Nightlife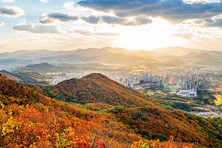 Seongnam is a city with the total area of 140 square kilometres situated in Gyeonggi-do Province in the south of South Korea. The city is 20 kilometres away from Seoul and 40 kilometres away from Incheon.
The closeness of the city to the capital and its historical and architectural monuments make Seongnam a popular destination for the excursion tourism. The tourists will get acquainted with such sights as Bongguksa Temple and Namhansanseong Fortress. Anyone can take a trip to the capital city of South Korea to see its main sights. For example, they will see such UNESCO sites as Joseon Dynasty Royal Tombs, Changdeokgung Palace Complex and Jongmyo Shrine. If this is not enough, you can go on a trip around the province.
If it is city entertainments you are after, in Seongnam you will find many things to do. There are such shopping malls as Coex Mall, Newcore Outlet, and Pathos International; Book amusement park or Puff Night and New World nightclubs.
Those who prefer the event tourism will want to participate in Seongnam Culture & Arts Festival.
The clinics and medical centres of the city and the neighbouring Seoul attract the wellness tourists.
The ecological tourists should definitely visit Bukhansan National park situated on the Bukhan Mountain. This park is also a favourite place of the extreme tourists. The Insubong Mount and Baegundae Mount are good for climbing. The tourists can take some lessons of paragliding and hang-gliding or parachuting.
Staying in Seongnam, the foodies will enjoy traditional Korean cuisine in such restaurants as Hansoban Jjukkumi, Ggot Dalim and Cheongmok Nadeurae.