Sonora
Resort type:

Beach resort

Landscape:

Mountains, Desert, Plain, Riverside, Tropical Forest, Hills, Bay Coast

What to do:

Golf, Diving & Snorkelling, Natural Parks & Reserves, Wellness Tourism, Historical & Architectural Monuments, Gliding & Paragliding, Yachting & Sailing, Hiking, Fishing & Spearfishing, Surfing, Windsurfing & Kitesurfing, SPA, Nightlife, Oceanariums & Dolphinariums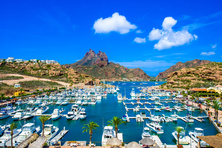 Sonora is a Mexican state situated on the coast of the Gulf of California in the northwest of the country. It borders the State of Sinaloa, State of Chihuahua, State of Baja California and State of Arizona. The administrative centre is the city of Hermosillo. The total area is about 185.000 square kilometres.
This beach resort offers a wide choice of activities for the extreme tourists. They can try their hand at kiting, yachting, windsurfing, sailing, paragliding, hang-gliding or parachuting. Bonita Beach and Sandy Beach are the most popular with the tourists. They can go snorkelling, sports fishing, swimming and diving. The diving instructors will teach you the basics.
Amazing nature with its mountains and rivers is the reason why so many ecological tourists want to come to Sonora. They can go hiking along the Colorado River, enjoy fantastic mountain landscapes of the Nacapule Canyon and Barajitas Canyon. The tours to the Gran Desierto de Altar, which is a UNESCO site, are also very popular with the tourists.
If no vacations are complete for you without the excursions, you will see interesting historical and architectural monuments in Sonora. For example, Cobre del Mayo and Mukatos Mine, Caborca Church, Government Palace, Museum of Sonoran History and Culture.
Such hotels in Hermosillo as Econatura and San Sebastian offer spa treatments for the wellness tourists.
If you prefer city entertainments, you should go to Puerto Penasco and visit Cet-Mar Aquarium, Sonora dolphinarium, Campo de Golf Penasco.
The foodies will enjoy traditional Mexican dishes in Mochomos, Beffass and Mariscos Alfreditos.
At night, Red Hermosillo and Light nightclubs open their doors.