Stewart Island (Rakiura)
Resort type:

Country resort

Landscape:

Swamp, Mountains, Broadleaf Forest, Seacoast, Island, Oceanfront, Plain, Riverside, Tropical Forest, Strait

What to do:

Diving & Snorkelling, Natural Parks & Reserves, Boat Trips, Wellness Tourism, Historical & Architectural Monuments, Hiking, Surfing, Windsurfing & Kitesurfing, SPA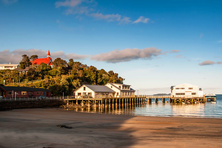 Stewart or Rakiura Island is a large New Zealand island in the south of the Pacific Ocean. It is separated from the South Island by the Foveaux Strait. The total area of the land is 1.746 square kilometres. The largest city is Oban.
Primeval woods and marshland, granite mountains and kiwi plants all over where you can see rare birds, attract the ecological tourists to the Island. In Rakiura National Park, which occupies the largest part of the Island, the tourists will explore the local ecological systems and watch the rare animals in their natural habitat. Sea tours to the Ulva Island are also organized.
Stewart is a popular place with the lovers of calm beach holidays. The coastal area has access to the Foveaux Strait attracting those who love snorkelling. The ocean waters are ideal for surfing, kiting, yachting, windsurfing and diving. In the north, there is the Mount Anglem and the tourist can go climbing or trekking. The active tourists can go kayaking on the Freshwater River.
You will not find any significant historical or architectural monuments on Stewart. If you cannot imagine your holidays without excursions, visit the Rakiura Museum.
South Sea hotel has a wellness centre on site offering toning and relaxing spa treatment or a massage. The tourists will feel a positive effect of the fresh air and a good ecology of the Island.
The event tourism is not developed here.
You will have a great shopping experience in Christchurch, the largest city of the neighbouring South Island. There are such malls as Start, Northland and Eastgate.
The foodies will surely enjoy their meals in KaiKart Takeaways and Kiwi-French Creperie.
There is no nightlife on the Island.