Suwon
Resort type:

City resort

Landscape:

Town, Mountains, Lakes, Riverside, Hills

What to do:

Cycling, Culinary Tourism, Natural Parks & Reserves, Wellness Tourism, Historical & Architectural Monuments, Gliding & Paragliding, Amusement Parks, Hiking, Rafting & Kayaking, Surfing, Windsurfing & Kitesurfing, Festivals & Carnivals, Shopping, SPA, Nightlife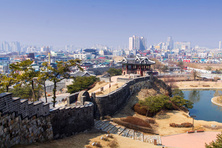 Suwon is a Korean city and the capital of Gyeonggi-do Province. It is situated in the northwest of the Republic. It neighbours Yongin, Uiwang and Hwaseong. The city is 31 kilometres away from Seoul. Its total area is more than 120 square kilometres.
Businessmen can make a profit in Suwon because this city is known for its manufacturing enterprises and it is one of the main centres of business tourism.
The lovers of the excursion tourism will visit the major sight of the city. It is Hwaseong Fortress built in the 18th century. This unique architectural example is a UNESCO site. Do not miss a chance to take a walk in Wolhwawon Garden. During an excursion tour in Seoul, you will see Changdeokgung Palace Complex, Jongmyo Shrine and Joseon Dynasty Royal Tombs.
The extreme tourists should stay in the suburbs of the city where they can go trekking, windsurfing, kiting and parasailing on the Dongbaek Lake. They can also go biking.
The event tourism is maintained in the city thanks to Galbi Festival and Suwon Hwaseong Cultural Festival.
The wellness tourists can take toning or relaxing spa treatments in wellness centres in such hotels as Ramada Plaza Suwon and Cinema.
At night, 911 Club, Loop and Rodeo nightclubs open their doors. In the city, you will find Woncheon Greenland amusement park and Good Morning City or Star City shopping malls.
The ecological tourists will definitely enjoy a tour to the Namhansansung Provincial Park. They can also go to Sangdong Lake Park and Yonin Natural Recreation Forest.
In the Yeonpo Galbi restaurant, the foodies will treat themselves to the Korean delicacies.