Shizuoka Prefecture
Resort type:

Country resort

Landscape:

Mountains, Broadleaf Forest, Oceanfront, Coniferous Forest

What to do:

Culinary Tourism, Natural Parks & Reserves, Boat Trips, Wellness Tourism, Historical & Architectural Monuments, Gliding & Paragliding, Amusement Parks, Yachting & Sailing, Fishing & Spearfishing, Surfing, Windsurfing & Kitesurfing, Thermal & Mineral Springs, Festivals & Carnivals, Shopping, Nightlife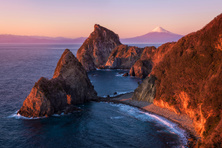 Shizuoka Prefecture is a Japanese prefecture with the total area of more than 7. 700 square kilometres in Chubu Region. It is situated on the Honshu Island between the Pacific coast, the Japan Alps, and the Mount Fuji. It borders Kanagawa Prefecture, Nagano Prefecture and Aichi Prefecture. The administrative centre is the city of Shizuoka.
Endless tea plantations, rice fields and orchards attract to the Prefecture the lovers of the ecological tourism. They will enjoy the beauty of such natural sights as the Shirato Falls and the KawazuNanadaru Waterfalls, take a walk in the Atami Plum Garden and see the legendary Mount Fuji protected by the UNESCO.
Those who prefer to relax on the beach should spend time on such resorts as Minamiizu, Higasiizu, and Matsuzaki. Young will people will love Hamamatsu, Makinohara and Shizuoka. The extreme tourists can try their hand at surfing, kiting, diving, yachting, parasailing, sailing, windsurfing and deep underwater hunting.
The wellness tourists should not miss a chance to go to Kanzanji Hot Springs.
In the capital city, the tourists can go shopping at Cenova, Lalaport Iwata and Gotemba Premium Outlets malls. In the city, there are such nightclubs as the Klan or Second and an amusement park Kakegawa Kachoen. The foodies will treat themselves to the Japanese delicacies in Tororo jirunochojiya and Umibozu restaurants.
Hamamatsu Festival, Simizu Port Festival and Enshu Daimyo Festival help to develop the event tourism in the Prefecture.
During an excursion tour to the historical and architectural monuments, the tourists will see the Kunozan Toshogu Shrine or Miho Shrine.