Basse-Terre Island
Resort type:

Beach resort

Landscape:

Town, Mountains, Seacoast, Riverside, Tropical Forest, Volcanoes

What to do:

Culinary Tourism, Diving & Snorkelling, Natural Parks & Reserves, Wellness Tourism, Historical & Architectural Monuments, Gliding & Paragliding, Yachting & Sailing, Fishing & Spearfishing, Surfing, Windsurfing & Kitesurfing, Festivals & Carnivals, SPA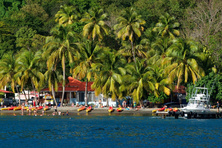 Basse-Terre is a capital city of Guadaloupe situated on the coast of the Caribbean Sea at the foothill of the Soufriere Volcano. The municipality is located in the south-west of the country. Its total area is 6 square kilometres. The city borders Deshaies and Saint-Claude.
Take a journey to Basse-Terre to relax on the beaches of the Caribbean coast. For the lovers of extreme tourism there is an infinite range of choices from kiting, yachting, windsurfing, surfing and sailing to paragliding and parachuting. The active tourists choose the Leroux Beach, the Malendure Beach, and the Amandiers Beach where one can go sports fishing, snorkelling, and diving. Picturesque landscapes of the country attract the lovers of ecological tourism. People can take a walk across the area and enjoy the plants in the Deshaies Botanical Garden. The tours to the Guadaloupe National park are arranged for the tourists. This Park is acknowledged a biosphere reserve by the UNESCO.
The city is a centre of event tourism. The most interesting events are the Festival of Caramel and the Festival of Patronale.
In the hotel Le Paradis Tropical, wellness tourists can have a massage and relaxing spa procedures.
The foodies can try traditional Guadaloupe dishes in such restaurants as Kanari and Moulin Blanc.
Those for whom their holidays are not complete without excursions will see many historical and architectural monuments and can visit numerous museums. The tourists can visit the Fort Delgres, acquaint themselves to the exposition in the Gerty Archimede Museum, and see the Christophe Columb Memorial.
The city can also offer something for the pilgrims. They can go to the Saint Antoine Monastery and the Temple Hindou De Changy.
The nightlife in Basse-Terre will make the tourists go to bed early.