Tennessee
Resort type:

City resort

Landscape:

Mountains, Valley, Broadleaf Forest, Lakes, Plain, Riverside, Coniferous Forest, Hills

What to do:

Natural Parks & Reserves, Boat Trips, Amusement Parks, Hiking, Festivals & Carnivals, Nightlife, Oceanariums & Dolphinariums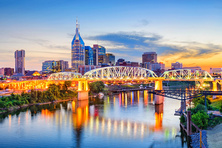 Tennessee is a state in the east of the United States of America. The capital city is Nashville. The largest cities are Memphis and Gatlinburg. Tennessee borders Kentucky, Virginia, North Carolina, Georgia, Alabama, Mississippi, Arkansas, Missouri.
Many tourists go on a cruise along the Mississippi River.
If you come to Tennessee, do not miss a chance to go to Wonder Works amusement park in Pigeon Fort. There you will find an illusion gallery, cinemas and a virtual rollercoaster.
The ecological tourists will surely want to go to the Great Smoky Mountains National Park, see the Pilfud Lake, the Fall Creek Waterfall and the Lookout Mountain.
Those who prefer the educational programs will go to Abraham Lincoln Museum, Museum of Atomic Energy and Graceland – Estate of Elvis Presley.
The fans of country music should come to Nashville when the city holds music festivals and cultural events. In Pigeon Fort, there is Dollywood, a thematic park for all the lovers of country music. It got its name after a singer Dolly Parton.
In Great Stage Park, the tourists can have a picnic, play sports games or go on a romantic walk.
You can go shopping at the malls in large cities of the state.
Popular restaurants in Tennessee offer the dishes inspired by the world cuisines.
At night, bars, discos or nightclubs of Nashville and Memphis open their doors.