Ticino
Resort type:

Country resort

Landscape:

Town, Mountains, Valley, Broadleaf Forest, Lakes, Coniferous Forest, Hills, Cliffs

What to do:

Aquaparks, Mountaineering, Culinary Tourism, Downhill Skiing, Wellness Tourism, Historical & Architectural Monuments, Gliding & Paragliding, Amusement Parks, Hiking, Sport Tourism, Rafting & Kayaking, Fishing & Spearfishing, Snowboarding, Thermal & Mineral Springs, Festivals & Carnivals, Shopping, Nightlife, Religious Pilgrimage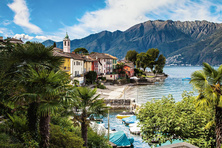 Ticino is a Swiss canton with the total area of 2.812 square kilometres situated in the east of the country. It is separated from Central Switzerland by the Lepontine Alps. The administrative centre is Bellinzona.
Many water basins, subtropical plants and picturesque mountain views are the reason why Ticino is a popular centre of the ecological tourism. Staying in the region, the tourists can go hiking in the Alpine valley, collect mountain herbs, enjoy the glaciers and go fishing. We strongly recommend going to the Lugano Lake and take a walk in the Monte-San Giorgio Mount which is inscribed on the UNESCO World Heritage List.
If it is the excursion tourism you are after, you will want to go on a thematic tour to see historical and architectural sights in Ticino. For example, Lugano Town Hall, Bellinzona Castles, Walls and Ramparts of Market Town. These are all UNESCO sites.
The pilgrims can visit such churches as the Collegiate Church of Saints Peter and Stephen and Madonna del Sasso Pilgrimage Church.
You will have a great shopping experience in such large cities of the canton as Lugano, Mendrisio, and Bellinzona.
The tourists with kids will have a great time in the California aqua park in Balerna, Giumaglio amusement park in Bellinzona and Swiss Miniature Park in Melide.
The wellness tourists like to go to the Lido Locarno balneological centre.
There is a wide range of activities for the extreme tourists from climbing, rafting or kayaking to parachuting and paragliding. In the Leventina valley, they can go alpine skiing or snowboarding.
Celebrations and festivals in Ticino attract the lovers of the event tourism. The most popular event for the foodies is a Lugano Autumn Festival.
The most vibrant nightlife is in Bellinzona. The tourists will have a fun time in Pirata Club and Babalu Fashion Club.