Torres del Paine
Resort type:

Country resort

Landscape:

Mountains, Broadleaf Forest, Lakes, Fjord, Tundra

What to do:

Mountaineering, Mountain Trails, Natural Parks & Reserves, Horse Riding, Boat Trips, Yachting & Sailing, Hiking, Fishing & Spearfishing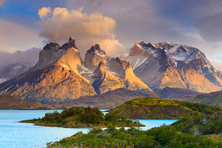 Torres del Paine National Park is a UNESCO site in Chile. You can get here from Puerto Natales, which is 145 kilometres away from the Park. It will take you about 3 hours to get here.
This Park attracts largely those who like outdoor activities. The main sight of the Park is Grey Glacier. The tourists can try and conquer the highest peak Cerro Paine Grande which is 3.050 meters high. The tourists can also go hiking, trekking and climbing. One of the most popular trekking routes is W-Trail. It lasts several days and you will have to spend the nights in hotels or campings. In Campamento Torres camping, you can stay for free. During an excursion, you will see a beautiful Salto Grande waterfall and can have a picnic near the Pehoe Lake. You can also have a rest at a camping site near the Laguna Azul. Among the most popular water activities are fishing, kayaking and canoeing, sailing, boat cruises.
If you like horseback riding, you should definitely visit the Estancia 3R Ranch. Horseback riding excursions are organized at Baqueano Zamora. There is an interesting ethnic village Agroturismo Los Manantiales where one can get acquainted with the life of the indigenous people of Patagonia – Tehuelche.
In the western part of the Park, you can watch such wild animals as guanaco.
On the territory of the Park, there are small shops where the tourists can buy a souvenir. The most popular are ceramics with the image of the Grey Glacier and Salto Grande waterfall.
On the territory of the Park, you will find some cafes and restaurants. In Bar Pionero, you will try the dishes inspired by the South African cuisine.