Toyama
Resort type:

City resort

Landscape:

Mountains, Seacoast, Riverside, Bay Coast

What to do:

Mountaineering, Cycling, Culinary Tourism, Mountain Trails, Diving & Snorkelling, Horse Riding, Wellness Tourism, Historical & Architectural Monuments, Gliding & Paragliding, Yachting & Sailing, Surfing, Windsurfing & Kitesurfing, Thermal & Mineral Springs, Festivals & Carnivals, Shopping, Nightlife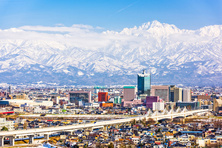 Toyama Prefecture is a prefecture in Hokuriku or Chubu Region on the Honshu Island. It has access to the Sea of Japan. The administrative centre is Toyama. The total area of the Prefecture is 4.200 square kilometres.
Thanks to a well-developed manufacturing industry, Toyama is a popular centre for business tourism.
The lovers of beach holidays choose such resorts as Imizu, Namerikawa and Nyuzen. The active tourists will have everything they may need for swimming, snorkelling and diving. The extreme tourists can try their hand at sailing, water skiing, parasailing, windsurfing and yachting.
Tours along the Tateyama-Kurobe Alpine Route are organized for the tourists. Anyone can also go climbing, canyoning, paragliding, biking or horseback riding.
In the capital city, you will find such malls as Kutsushita-ya Aeon Mall Takaoka and Apita Toyama Shop where you can buy souvenirs and other goods. At night, Mairo, Chu-La, Vigro nightclubs open their doors. The foodies will enjoy Japanese delicacies in Shiroebitei and Sushitama restaurants.
The event tourism is maintained in the Prefecture thanks to such events as the Owara Dance Festival, Tonami Tulip Fair and Nanto Toga Soba Festival.
If it is the excursion tourism you are after, then you should definitely visit Gokayama Historic Village which is under UNESCO protection. The tourists will also see Habake Residence.
Kanetsuri Hot Spring attracts the wellness tourists. People believe that the water here has healing qualities.
The ecological tourists will enjoy the beauty of the Mikurigaike Pond and the power of Shomyo Waterfall. Do not miss a chance to take a walk in the Botanic Gardens of Toyama.