Daejeon
Resort type:

City resort

Landscape:

Town, Mountains, Riverside

What to do:

Cycling, Culinary Tourism, Golf, Natural Parks & Reserves, Wellness Tourism, Historical & Architectural Monuments, Amusement Parks, Hiking, Rafting & Kayaking, Surfing, Windsurfing & Kitesurfing, Thermal & Mineral Springs, Shopping, Nightlife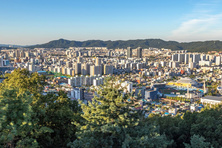 Daejeon is a city and an administrative centre of South Chungcheong Province, situated in the valley of the Geum River. The total area of the municipality is 540 square kilometres. It is 167 kilometres away from Seoul and 170 kilometres away from Gwangju.
The country regions of Daejeon attract the lovers of the ecological tourism as they can have a walk in Uam Historical Park and Hanbat Arboretum. The tourists can also explore the local ecological systems of these places. Do not miss a chance to visit Gyeryongsan National Park.
The excursion tourists will see some historical and architectural monuments. The most interesting are Dong-Hak-Sa Temple, Dunsan Prehistoric Settlement Site and Dongsan Pottery Museum.
The foodies can treat themselves to traditional Korean delicacies in Yetteo, Sutgorwon Naengmyeon and Hanbang Samgyetang. International cuisine is served in Kingdom Buffet, Via Roma and City Members Buffet.
There is a wide choice of activities for the extreme tourists from paragliding, parachuting, river windsurfing, rafting to biking. The active tourists can go biking or try their hands at horseback riding. Not far from Daejeon, there are golf fields Yuseong and Gumsil Daedeok Valley.
Yuseong Thermal Springs make this city a popular destination for a wellness tourism. Some people come here to improve their health in the local clinics.
In Daejeon, you will have a great shopping experience. In such malls as Lotte and Timeworld, you will find virtually any goods. The tourists with children should definitely go to Zooland or an amusement park Kondorilend.
Daejeon has a very active nightlife. The most popular clubs are Shisha House, Volume and Cocoon.