Udon Thani
Resort type:

City resort

Landscape:

Lakes, Riverside, Tropical Forest

What to do:

Aquaparks, Cycling, Natural Parks & Reserves, Historical & Architectural Monuments, Sport Tourism, Zoos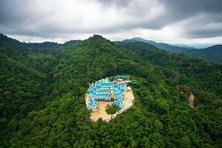 Udon Thani is the capital of Udon Thani Province in Isan Region. It is situated in the northeast of Thailand. The city is 564 kilometres away from Bangkok. Udon Thani is conveniently located near the border with Laos so the tourists can take a one-day trip to this country.
Udon Thani is a popular touristic centre in Thailand and many tourists want to come here. The place will be interesting for the lovers of the excursion tourism as there are many cultural and historical sights which impress with their splendour. You will visit Buddhist temples and the most popular are Wat Phothisomphon or City Pillar Shrine.
Your holidays in Udon Thani will not be complete without visiting a famous archaeological monument Ban Chiang which is 35 kilometres away from the city. The ruins of the Bronze Age settlement are inscribed on the UNESCO World Heritage List. Muang Udon Thani Museum hosts many interesting expositions.
Udon Thani is an ideal place for the ecological tourists. On the resort, there are many parks where you can relax and participate in cultural events. For example, you can go to Nong Prajak Public Park and enjoy fantastic nature. The active tourists can go hiking, biking or take some aerobic lessons at night.
A hallmark natural sight of the resort is Phu Foi Lom Eco-Park, which is known for its amazing waterfalls. The Park is situated on the high-mountain range. Another interesting place is Phu Phrabat National Park. In the Park, you will find the evidence of the fact that dinosaurs really existed.
Families will have a great time in the Udon Thani Zoo or Playport Udon Thani Water Park. You will surely be impressed by the Udon Sunshine Orchid Farm.