Whistler
Resort type:

Ski resort

Landscape:

Town, Mountains, Oceanfront

What to do:

Cycling, Golf, Downhill Skiing, Natural Parks & Reserves, Sport Tourism, Rafting & Kayaking, Fishing & Spearfishing, Snowboarding, Festivals & Carnivals, Shopping, Nightlife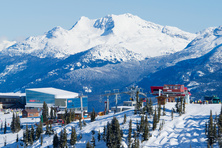 Whistler is a ski resort in British Columbia Province in Canada. The city is located to the north from the Pacific Mountain System along the Pacific Ocean. It is 125 kilometres away from Vancouver.
Whistler largely attracts the lovers of active tourism. In the Whistler Mountain and the Blackcomb mountain, there are trails of various levels of difficulty. There is a great number of trails for snowboarders and those who prefer mountain biking. The active tourists can go snowshoeing, rafting, fishing or play golf. There is Whistler Sliding Center, Meadow Park Sports Center and Chateau Whistler golf club.
If you want to learn more about the city, you should go to Squamish Lilwat Cultural Center, Whistler Library or such galleries as Adele-Campbell, Black Tusk and Path Gallery.
Whistler holds many festivals and celebrations and attracts the fans of the event tourism. The most popular events as Mountain Bikers Festival, Whistler Music and Art Festival.
The shoppers should not go past Aldergrove Duty Free Shop.
The best restaurants on the resort are Creekbread, Tacos La Cantina and Elements.
If you do not want to stay in your hotel room at night, Tommy Africa's, Maxx Fish and Garfinkel's open their doors.