Utrecht
Resort type:

City resort

Landscape:

Town, Lakes, Riverside

What to do:

Cycling, Culinary Tourism, Horse Riding, Wellness Tourism, Historical & Architectural Monuments, Gliding & Paragliding, Amusement Parks, Hiking, Rafting & Kayaking, Surfing, Windsurfing & Kitesurfing, Festivals & Carnivals, Shopping, Nightlife, Religious Pilgrimage, Zoos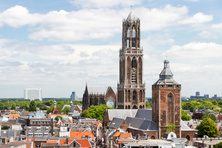 Utrecht is a city and the administrative centre of Utrecht Province locates in the central part of the Netherlands. It is 55 kilometres away from Rotterdam and 40 kilometres away from Amsterdam. The total area of the city is about 100 square kilometres.
In Utrecht, there is Roman Catholic Archdiocese of Utrecht, which makes the city one of the major centres of the pilgrimage. The tourists can visit such churches as Saint Gertrude's Cathedral, Saint Catherine Cathedral and Church of Saint John Baptist.
The city regularly hosts exhibitions, fairs, shows, concerts, celebrations and festivals attracting the lovers of the event tourism. One of the most popular events is Time Warp Dance Music Festival. Utrecht also annually hosts the Dutch Film Festival.
If it is the excursion tourism you are after, you will see interesting historical and architectural monuments. For example, Kasteel de Haar, Rubel Castle, Vredeborch Palace Fortress and Rietveld Schroder House. The latter is a UNESCO site.
The ecological tourists will enjoy the beauty of the Utrechtse Heuvelrug National Park, which was formed during the Ice Age. They can also go to Dieren Park Amersfoort and see the Loosdrechtse Plassen lakes.
In Utrecht, you will have a great shopping experience. In Wall Utrecht, Hoog Catharijne and Cityplaza malls you will find anything you need.
The tourists with kids will have a fun time in one of the amusement parks.
There is a wide range of activities for the extreme tourists from paragliding, parachuting, lake windsurfing and rafting to horseback riding or biking.
The wellness tourists come to Utrecht to improve their wellbeing and health in the local clinics or medical centres.
The foodies will enjoy their meals in Frietwinkel, El Primo and Kimmade restaurants.
At night, some clubs open their doors.