Beit Shemesh
Resort type:

Country resort

Landscape:

Town, Hills, Flora of the Mediterranean

What to do:

Mountaineering, Cycling, Culinary Tourism, Mountain Trails, Diving & Snorkelling, Ancient Monuments of Civilization, Horse Riding, Wellness Tourism, Historical & Architectural Monuments, Yachting & Sailing, Hiking, Caves, Surfing, Windsurfing & Kitesurfing, Festivals & Carnivals, Shopping, Nightlife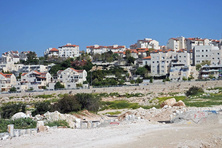 Beit Shemesh is an Israeli city in the Jerusalem District. It is situated in the Judaean Mountains in the centre of the country close to the Mediterranean Sea. The city is 45 kilometres away from Ashdod and 35 kilometres away from Jerusalem. The total area of the municipality is almost 35 square kilometres.
A rich history of the city which began over 3 000 years ago and the monuments of ancient civilisations make it a very popular destination for the excursion tourism. Take a walk across the city and you can explore the Archaeological Site of Tel Beit Shemesh, see the Samson's Tomb, and visit the Katlav Winery. An educational tour includes a visit to the Jerusalem Old City and Walls. This place is a UNESCO World Heritage Site. UNESCO candidate sites are also very popular among the tourists. Among them is the Liftah Traditional Mountain Village and the Ein Karem Village and its Cultural Landscape.
In Beit Shemesh, there is a great range of choices for active tourists from climbing, canyoning to alpinism in the Judaean Mountains. The tourists also like mountain trekking, biking, and horseback riding in the country. Everyone can take a trip to Ashdod and go diving, snorkelling, kitesurfing, yachting, and windsurfing in the coastal regions.
A festival of rock and soul music Beit Shemesh attracts many people to the city.
The fans of ecological tourism can explore the ancient Sorek Stalactite Cave Nature Reserve.
A pure air in this city is favourable for the health of the people who come here.
Go to the mall BIG Center for a good shopping. At night, everyone can go night bars. The foodies can try kosher dishes in the eatery Greg.